2016 Food Law Student Leadership Summit

The Food Law Student Leadership Summit convenes law students from around the country who share a passion for creating an equitable, transparent, healthy, and sustainable food system. Food law and policy is a fast-growing field within the legal profession and society at large. In the fall of 2015, Harvard Law School's Food Law and Policy Clinic hosted the first Summit, bringing together 100 law students from 50 law schools. Over the course of three days, students participated in small group seminars with leading academics and experts; developed creative solutions to some of today's most pressing policy challenges; and laid the foundation for the Food Law Student Network, a national network of food law and policy colleagues.
The 2016 Summit will be held September 30th to October 2nd at Drake University Law School in Des Moines, Iowa. This year's Summit will build on the success of last year's and feature many of the same elements. Participants will:
deepen their understanding of key food law and policy issues;
hear from advocates, farmers, academics, policy practitioners, policy makers, and more;
work with a small group to develop and present policy solutions;
gain valuable resources and insights for promoting food law and policy at their schools;
tour local farms and farmers markets; and
establish lasting connections with dedicated law students from across the country.
This year's Summit is co-hosted by the Food Law Student Network Leadership Committee, co-hosted by Harvard Law School's Food Law and Policy Clinic and Drake University Law School's Agricultural Law Center, with support from the Food Law Student Network Leadership Committee.
Hotel accommodations and all meals in Des Moines will be provided for all accepted students. A limited number of transportation scholarships will be available to cover the cost of flights or other travel. Accepted students should first seek funding from their schools before applying for travel scholarships.
If you are interested in applying to the Summit, please read the application instructions and requirements.
We will review applications on a rolling basis beginning in June and encourage students to apply early. Admitted students will be notified no later than August 31st. Please email any questions to flpc@law.harvard.edu.
The 2016 Food Law Leadership Summit is made possible through the generous support of the Lillian Goldman Charitable Trust, GRACE Communications Foundation, and the Charles M. Haar Food and Health Law Policy Fund.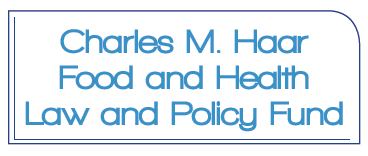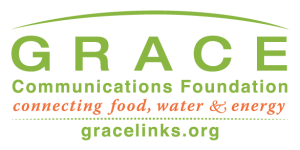 About the Harvard Food Law and Policy Clinic

Established in 2010, the Food Law and Policy Clinic (FLPC) works to address the health, environmental, and economic consequences of the laws and policies that govern our food system. The FLPC utilizes substantive expertise in food and health law and a robust policy skill set to assist nonprofit and governmental clients in a variety of local, state, federal, and international settings in understanding and improving the laws and policies shaping the food system. Law students in the FLPC get hands-on experience conducting legal and policy research and advocacy on a wide range of food issues. In addition to educating students at Harvard Law School, the FLPC also provides training to students from around the country through its summer internship program and its work with the Food Law Student Network. The FLPC is a division of the Center for Health Law and Policy Innovation at Harvard Law School (CHLPI). CHLPI houses both the FLPC and the Health Law and Policy Clinic, which advocates for legal, regulatory, and policy reforms to improve the health of vulnerable populations. More information can be found at www.chlpi.org/food-law-and-policy.
About Drake University Agricultural Law Center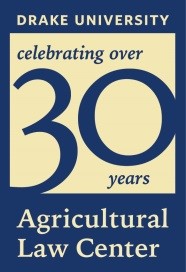 Founded in 1983, the Drake University Agricultural Law Center is internationally recognized for providing opportunities to study how the legal system shapes our food system and influences the ability of the agricultural sector to produce, market, and utilize agricultural products.  The Center has a 33-year history of legal research and policy action promoting better food and agriculture systems.  The Drake Law School supports an array of courses, publications, conferences, and research initiatives.  Students can earn a certificate in food and agricultural law learning about legal issues involving the full scope of food and agriculture, including marketing and finance; biotechnology; international trade; soil and water conservation; land use and environmental issues; food safety; and federal farm programs. The Center also hosts international law scholars to study food and agricultural law and policy in the U.S.  More information can be found at www.law.drake.edu/aglaw.