2017 Food Law Student Leadership Summit Application
---
The Harvard Law School Food Law and Policy Clinic and UCLA School of Law's Resnick Program for Food Law and Policy, along with the  Food Law Student Network, are excited to host the third Food Law Student Leadership Summit, which will provide a forum for training, networking, and engagement among law students interested in food law and policy. The Summit will be held November 17th to November 19th, 2017 at UCLA in Los Angeles, CA. We are now accepting applications from interested law students.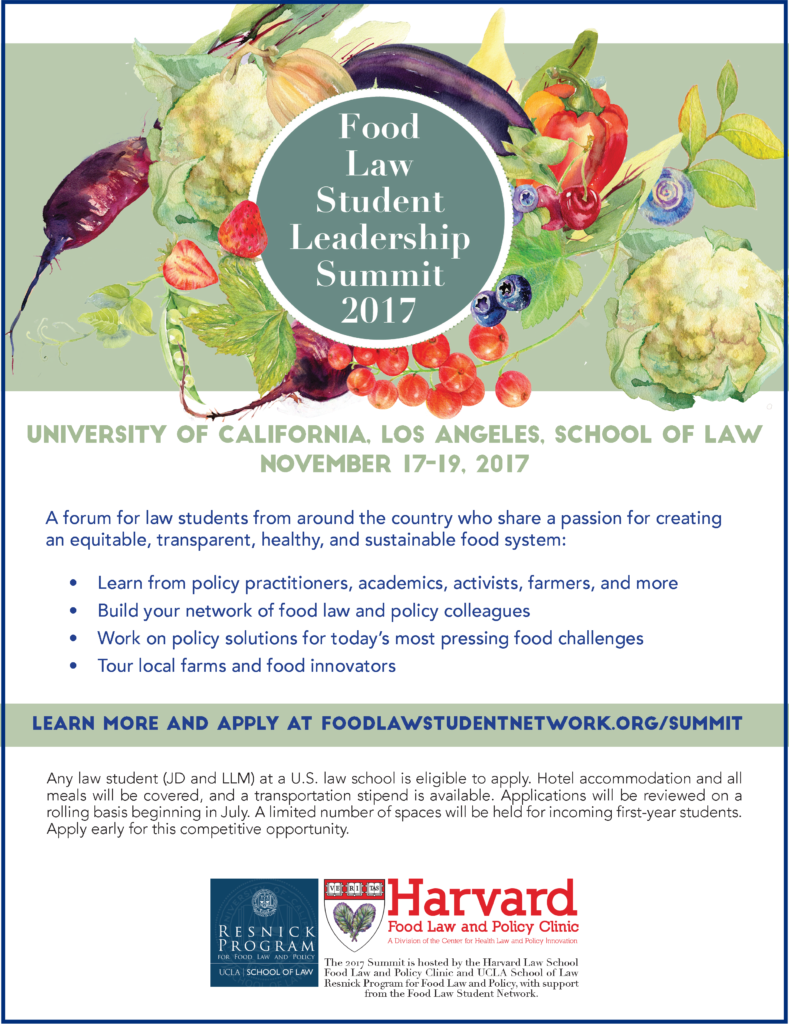 Some testimonials from Summit Attendees:
"When I arrived at the Summit, I knew instantly that a cooperative spirit wasn't just "present" like I had hoped. It was the core of the gathering. Professionals and academics dined at the same tables as Summit participants, discussing their own work and listening to and encouraging student interests. Students engaged each other, sharing past work experiences, advice on class offerings, and what was most meaningful to them about food law."
"I loved the seminars and speakers, and I left the Summit with great connections and an incredible passion to further pursue this area of law!"
"The Summit had meaningful content, exciting speakers, and great tours. The organizers also did a fantastic job organizing networking time so that students got a chance to know each other."
"The Summit was an incredible networking event and it was inspiring to be around so many like-minded people."
The Food Law Student Leadership Summit aims to:
deepen their understanding of key food law and policy issues;
hear from advocates, farmers, academics, policy practitioners, policy makers, and more;
work with a small group to develop and present policy solutions;
gain valuable resources and insights for promoting food law and policy at their schools;
tour local farms and farmers markets;
and establish lasting connections with dedicated law students from across the country.
Hotel accommodations and all meals in Los Angeles will be provided for all admitted students. A limited number of transportation scholarships will be available to cover the cost of flights or other travel. Admitted students should first seek funding from their schools before applying for travel scholarships.
We welcome applications from any law student (JD and LLM students) at a U.S. law school, including incoming first-year students. We seek applications from students that are involved in food law student organizations or interested in starting a food law student organization, especially those students with demonstrated leadership and experience in food law and policy. To convene a diverse group of students, we will limit the number of participants accepted from individual law schools.
We will review applications on a rolling basis beginning in early July and encourage students to apply early. Admitted students will be notified no later than September 30th, 2017. Please email any questions to flpc@law.harvard.edu.