2017 Food Law Student Leadership Summit

November 17-19, 2017 | University of California Los Angeles
The Food Law Student Leadership Summit convenes law students from around the country who share a passion for creating an equitable, transparent, healthy, and sustainable food system. Food law and policy is a fast-growing field within the legal profession and society at large.
Apply to attend the 2017 Food Law Student Leadership Summit
This year's Summit is co-hosted by Harvard Law School's Food Law and Policy Clinic and UCLA School of Law's Resnick Program for Food Law and Policy, with support from the Food Law Student Network Leadership Committee.The Summit will build on the success of the past years, while reflecting the Southern California setting, the clients and partners of UCLA's Resnick Program, and the region's unique role in our food system. Participants will:
deepen their understanding of key food law and policy issues;

hear from advocates, food producers, academics, policy practitioners, policy makers, and more;

work with a small group to develop and present policy solutions;

gain valuable resources and insights for promoting food law and policy at their schools;

tour local food organizations and food innovators; and

establish lasting connections with dedicated law students from across the country.
The Summit builds on the success of the first two Food Law Student Leadership Summits, held in 2015 and 2016. In the fall of 2015, Harvard Law School's Food Law and Policy Clinic hosted the first Summit, bringing together 100 law students from 50 law schools. Over the course of three days, students participated in small group seminars with leading academics and experts; developed creative solutions to some of today's most pressing policy challenges; and laid the foundation for the Food Law Student Network, a national network of food law and policy colleagues. The 2016 Summit at Drake Law School in Des Moines, Iowa, brought together 80 law students from nearly 50 law schools nationwide and two dozen food law faculty, experts and special guests, and focused on agriculture and the U.S. farm bill, reflecting the Iowa setting.
Hotel accommodations and all meals in Los Angeles will be provided for all admitted students. A transportation stipend will be provided to cover a portion of student travel costs (details available upon acceptance). We also encourage students to seek additional funding from their home institution.
If you are interested in applying to the Summit, please read the application instructions and requirements.
We will review applications on a rolling basis beginning in early July and encourage students to apply early. Admitted students will be notified no later than September 30th. Please email any questions to flpc@law.harvard.edu.
.
Apply to attend the 2017 Food Law Student Leadership Summit
---
The 2017 Food Law Leadership Summit is made possible through the generous support of GRACE Communications Foundation, the Charles M. Haar Food and Health Law Policy Fund, and the Academy of Food Law and Policy.

---
About the Harvard Food Law and Policy Clinic

Established in 2010, the Harvard Law School Food Law and Policy Clinic (FLPC) is the oldest clinical program in the nation working to address the health, environmental, and economic consequences of the laws and policies that govern our food system. The FLPC utilizes substantive expertise in food and health law and a robust policy skill set to assist nonprofit and governmental clients in a variety of local, state, federal, and international settings in understanding and improving the laws and policies shaping the food system. Law students in the FLPC get hands-on experience conducting legal and policy research and advocacy on a wide range of food issues. In addition to educating students at Harvard Law School, the FLPC also provides training to students from around the country through its summer internship program and its work with the Food Law Student Network.
About the Resnick Program for Food Law and Policy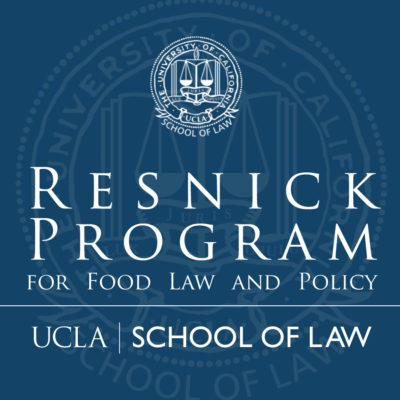 The Resnick Program for Food Law and Policy studies and advances breakthrough solutions for improving the modern food system. Based at UCLA Law, the Resnick Program is a national think tank focused on developing key legal and policy strategies, timely research, and practical tools to foster a food system that benefits both consumers and the environment. Covering a wide range of local, national, and global food policy topics and issues, the program seeks solutions in support of a food system that embodies the values of equity, transparency, and good governance and that yields improved health and sustainability outcomes for all through 1) Law and Policy Research and Education, 2) Leadership Development & Student Training, and 3) Creating Practical Solutions for Food System Challenges. In close association with the Resnick Program for Food Law and Policy, UCLA School of Law has launched a Food Law and Policy Clinic to bring new legal services to organizations that are expanding healthy food access and improving food environments, as well as those that are engaged in supporting a transition to sustainable food production and distribution. In addition to providing hands-on training to our students, the clinic is a catalytic tool for the organizations working to shift the status quo in the food system. While focusing on the dual goals of improving the food system and training effective and ethical lawyers, the clinic guides students through direct client representations that will prepare them for real-world work.